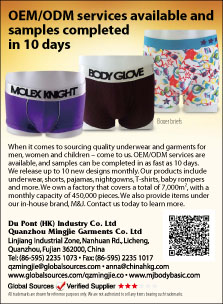 Share:




E-mail

Print

Bookmark
Quanzhou Mingjie Garment CO., Ltd

Follow me

OEM/ODM services available and samples completed in 10 days

3 Star China (mainland)

Credit Check - Supplier Credit Profile

provides impartial credit and vital business metrics for select suppliers on Global Sources Online. Using the Credit Check reports, buyers can easily compare key indicators and more efficiently manage risk. Suppliers with a Credit Check logo have agreed to allow this information to be reported to help buyers streamline the selection and due-diligence processes.

The supplier information below has been obtained from relevant government agencies in the supplier's country and is subjected to change without prior notice. Credit Check and verification procedures were conducted by Sinotrust, a third-party credit agency.
Read Disclaimer


Registered Address:
Within QZ Zhiteng Machinery Mfg. Co. Ltd
Linjiang Ind. Zone Nanhuan Rd.
Licheng District Quanzhou
Fujian Province China

Incorporation Date:
June 11, 2007
Legal Form:
Branch of limited liability company
Company Status:
Live
Registration Agency:
Quanzhou Municipal Administration for Industry and Commerce
Registration Number:
350502100023509
Authorized Capital:
RMB 3,000,000
Paid-Up Capital:
RMB 3,000,000
Legal Representatives:
WENG Jindao
Import & Export Licences Obtained:
Yes
Business Scope:
Production of garments, ornaments and woven products (by permit where involved)
Business Permit Expiry:
June 10, 2037
Shareholders:
• WENG Zhiming
• WENG Jindao




Want a more detailed Credit Report on this supplier?



Authenticated and verified by:
Sinotrust


On May 30, 2011

Contact Details




Quanzhou Mingjie Garment CO., Ltd
Linjiang Industrial Zone,
Nanhuan Road,
Licheng District
Quanzhou
Fujian
China 362000
Tel: (86 595) 22351073
Fax: (86 595) 22351017
Mobile: (86) 18659565351


Homepage Address
http://www.globalsources.com/qzmingjie.co
Other Homepage Address
http://www.mjbodybasic.com, www.hkdupont.net.cn


Chat with supplier using:

Key Contact:
Ms Chen, Anna
Sales Manager
Sale


Supplier and product information updated May 09, 2013.
Verified Business Registration Details
Registered Company: 泉州铭杰服饰有限公司
Business Registration Number: 350502100023509
Company Registration Address: 泉州市鲤城区南环路临江工业区


* In some jurisdictions, company names and addresses are registered in Chinese only.