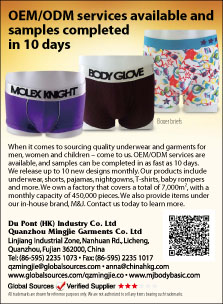 Share:




E-mail

Print

Bookmark
Quanzhou Mingjie Garment CO., Ltd

Follow me

OEM/ODM services available and samples completed in 10 days

3 Star China (mainland)
OEM/ODM



Our workshop- 1


Our workshop- 2


Quality inspection

OEM/ODM Capability
We offer the production facilities and our customer offers the design. Our monthly output is 400,000 pieces for men's boxer underwear, 500,000 pieces for men's briefs and 600,000 pieces for ladies' panty or children's inner wear.
Number of Production Lines
5
Size of Factory in Square Meters
5000
Factory Size in Square Feet
53819
Staff Details
Production Staff: 200 to 249
QC Staff: 5 to 9
R&D Staff: 5 to 9

Years of OEM/ODM Experience
6
Design Services Offered
Yes
Details of Design Services Offered
We offer our technical room and cardboard. The customer provides the size chart.
Buyer Label Offered
Yes
Details of Buyer Label Offered
We provide for buyer's labels.
Materials/Components
Fabric: 65, 95 or 100% cotton, 5% spandex, MD Modal, 35% polyester, rayon fabrics or bamboo-charcoal cotton
Label: care label and satin
Elastic: nylon and polyester
Machinery/Equipment for OEM/ODM
Pegasus
Brother
Kingtex
Fabric inspection machine
Flat machine
Needle detector
Over-lock stitching machine
Tacking machine
Button attaching machine
Automatic cutting machine
Monthly Capacity
500,000 to 599,999 Pieces
Monthly Output
450,000 to 499,999 Pieces
Minimum Order

Major Markets Served
Asia
Australasia
Central/South America
Eastern Europe
Mid East/Africa
North America
Western Europe

Main OEM/ODM Customers
K-mart, next, hema, zeeman, zara, blue print, topeco, disney and KIK.
More Information
Contact Details




Quanzhou Mingjie Garment CO., Ltd
Linjiang Industrial Zone,
Nanhuan Road,
Licheng District
Quanzhou
Fujian
China 362000
Tel: (86 595) 22351073
Fax: (86 595) 22351017
Mobile: (86) 18659565351


Homepage Address
http://www.globalsources.com/qzmingjie.co
Other Homepage Address
http://www.mjbodybasic.com, www.hkdupont.net.cn


Chat with supplier using:

Key Contact:
Ms Chen, Anna
Sales Manager
Sale


Supplier and product information updated May 09, 2013.
Verified Business Registration Details
Registered Company: 泉州铭杰服饰有限公司
Business Registration Number: 350502100023509
Company Registration Address: 泉州市鲤城区南环路临江工业区


* In some jurisdictions, company names and addresses are registered in Chinese only.