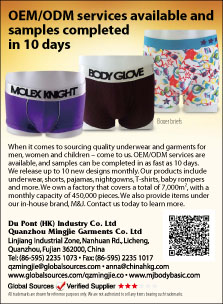 Share:




E-mail

Print

Bookmark
Quanzhou Mingjie Garment CO., Ltd

Follow me

OEM/ODM services available and samples completed in 10 days

3 Star China (mainland)
Quality Control



Our workshop


Our warehouse

QC/Technical Support
Our QC department consist of 10 personnel.
QC Staff
5 to 9
Materials/Components
100% cotton yard from China, cotton, elasthane, cotton and elasthane yard form China. Cotton, lycra, lycra from Dupon Company.
Procedures/testing Details
Fabric inspector, warehouse inspector, workshop QC, product checker, packing checker, carton check, total quality checker and needle detector.
Other Information
We make the following checking: from in-house fabric, cutting piece, print piece, in-line products, finished products and packed products. All the production before shipment will be subjected to inspection according to AQL2.5.
More Information
Contact Details




Quanzhou Mingjie Garment CO., Ltd
Linjiang Industrial Zone,
Nanhuan Road,
Licheng District
Quanzhou
Fujian
China 362000
Tel: (86 595) 22351073
Fax: (86 595) 22351017
Mobile: (86) 18659565351


Homepage Address
http://www.globalsources.com/qzmingjie.co
Other Homepage Address
http://www.mjbodybasic.com, www.hkdupont.net.cn


Chat with supplier using:

Key Contact:
Ms Chen, Anna
Sales Manager
Sale


Supplier and product information updated May 09, 2013.
Verified Business Registration Details
Registered Company: 泉州铭杰服饰有限公司
Business Registration Number: 350502100023509
Company Registration Address: 泉州市鲤城区南环路临江工业区


* In some jurisdictions, company names and addresses are registered in Chinese only.